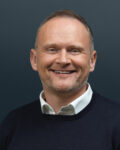 Johannes Oberdanner
Managing Partner
Johannes Oberdanner started his career as a mechanical engineer within the automotive industry. After climbing the corporate ladder for international brands like Zumtobel and Swarovski, holding various positions in Production, Quality Management, Product Marketing, Product Development, Sales and General Management for two decades, he founded his consulting boutique firm to support startups within the deeptech- and tech-area on their journey. He acts as a mentor and investment manager and advises executives on their strategic and operational challenges. Since January 2022 he is the head of innovation at Pfeifer and the managing partner for SymbiaVC GmbH.
Johannes likes to spend time with his family in nature, going mountain biking and skiing. He is deeply interested in technology and physics and uses every occasion to keep up with recent developments in the fields of technology, digitalization and international politics and finance.
Acting as mentor, investment manager, and strategic advisor, helping executives navigate the challenges of running a successful business, Johannes has dedicated his career to helping deeptech and tech startups succeed. Recently, Johannes has taken on exciting new roles, among which is managing partner for SymbiaVC.
Why did you join SymbiaVC?

For me it is a great honor and a once in a lifetime opportunity to build up a Corporate Venture Capital firm from scratch. By defining the overall strategic direction together with the Founding Partners, Bernhard and Peter, hiring the right people and putting excellent operational processes in place, we assure that the focus of our activities at SymbiaVC will be on finding the most promising startups and scaleups with high potentials and executing on highest standards. The impact we will create with these investments is much bigger than the financial benefits we will gain, but even more, we actively support the right-minded people on their brave initiatives to tackle some of the most important and prominent challenges of our society. It makes so much sense to me!

What is your position at SymbiaVC?

I am the Managing Partner at SymbiaVC, assuring that we operate on highest standards and enable sustainable growth together with the portfolio companies.

What are your responsibilities?

The overall duty is to bring the idea behind SymbiaVC into reality and assure that we are an active and respected partner within the ecosystem. I am providing leadership to the team, implementing and observing the processes and instruments, generating a high quality and constant deal flow, identifying the most promising companies and founders and turning the prospects into closed deals to build an active and vital portfolio. At the end of the day it's all about people, building trust, acting on eye level and ensuring that we all grow!

What fascinates you about SymbiaVC?

We are not only investors but also sparring partners for our start-ups. If required, we are part of their advisory board using potential leverage on every angle we can – not only financially. It fascinates me to work with young talents and their ideas on all aspects along the timber industry value chain. Finding solutions for problems of today's world like sustainable housing or climate impacts intrigues me.

What are the strengths you bring to SymbiaVC?

My whole career is based on a very broad basis. I know the production workflow, but I have also been in top-management positions of big corporations, and I founded my own start-up. It is very natural for me to connect with people from all different backgrounds. I have so much respect for new founders and therefore it is easy for me to relate with them. This also helps for the due diligence process. Figures are not always enough to get a good assessment of the potential of early stage companies and ideas. The people behind the ideas are the key at the stages we invest.

Where do you want to see SymbiaVC developing?

I want SymbiaVC to be a well-known player within the European VC landscape. Our goal is to have a portfolio with 25 to 30 start-ups who walk a successful path with us and grow in symbiosis.

What does innovation mean to you?

It means being open and curious about what is going on in the world and finding a solution for our customers. It also includes the courage and ability to fail – intelligently.

Any more words on failure?

That is something we can get better at, especially in central Europe. When trying out new things, experimenting and taking risks well managed than every failure is a victory towards learning, growth and ultimately success. That is something I really want to encourage in people.

Your favorite tree?

A cherry tree. I grew up on a farm and the big cherry tree was a giant space for great experiences.